NEWS > EXHIBTIONS AND PAST EVENTS
> Germinal: fact or fiction?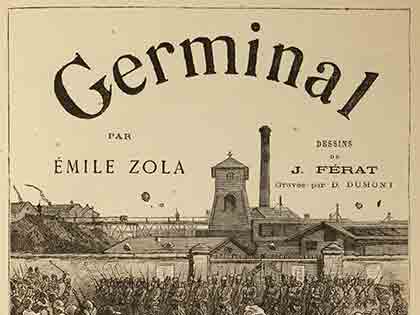 30 APRIL 2016 | 28 MAY 2017

On 5 October 1902, a huge crowd gathered to watch the funeral procession bearing Émile Zola to the Montmartre cemetery in Paris. A delegation of miners from Denain hailed him with cries of "Germinal! Germinal!" This tribute seems to reflect their appropriation of Zola's novel, and their identification with its description of the mining world.
As we know, the novelist, leader of the naturalist movement, had set himself a task: to reflect reality as closely as possible. As a journalist, Zola sought out documentation, not only studied books – on both economics, like those of Yves Guyot, and technology, like those of Amédée Burat and Louis Simonin – but also read medical articles on miners' diseases and publications on Socialism. Faithful to the principles of Naturalism, he went into the field, and the strike unleashed by the miners of the Compagnie d'Anzin on 18 February 1884 provided an un-hoped for opportunity to observe a social movement with his own eyes.
For its numerous readers,Germinal rapidly became a truthful reflection of the mining community's working conditions and life. However, Zola was first and foremost a novelist, whose writing and talent created a fascinating narrative that gaily deviated from the rigorous accuracy of a documentary on occasion. Today, knowing whether Germinal's content is based on fact or fiction is still a delicate question, on which a certain amount of light can be shed by the Centre Historique Minier archives.