HOME
> ACCESSIBILITY
Over the last few years, the Mining History Centre has implemented a policy of catering fully for people with disabilities, in order to fulfil its vocation to communicate the mining culture of the Nord-Pas de Calais to all audiences, including these particular visitors.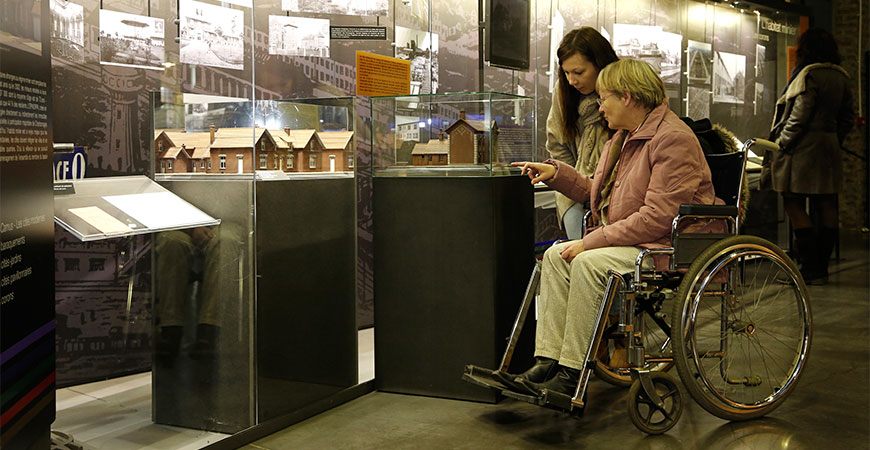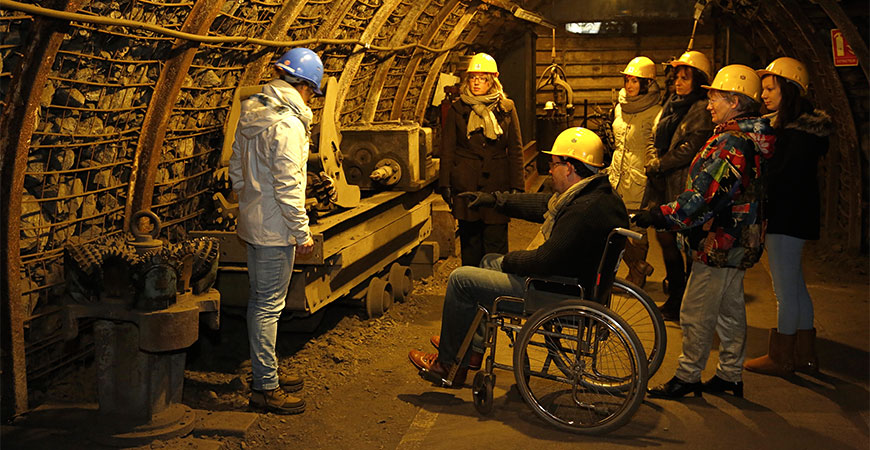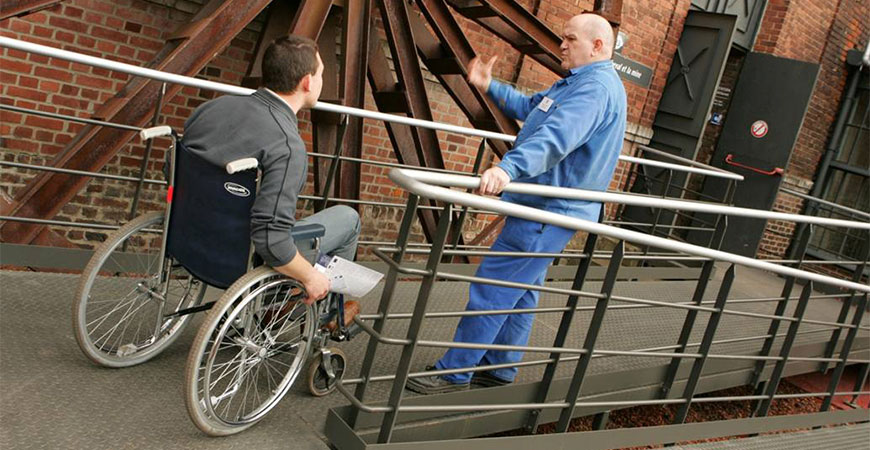 In approaching this project, we enlisted the support of associations for people with disabilities to ensure that our solutions met their needs fully.
Initial measures consisted of implementing reception procedures to recognize, identify and support visitors with disabilities, raising staff awareness and training the teams who work with the public.
Several projects were also completed to improve the way we cater for visitors with disabilities, and their comfort during their visits :
– Creation of

hard-surface paths

to link the colliery's various buildings: the majority of the site is now wheelchair-accessible.

– To compensate for an area which wheelchair users cannot visit, a presentation film is now available; it is shown on a television screen and the visitor then re-joins the rest of the group to continue the visit.


– Induction loops have been installed in various areas of the mine to assist people wearing hearing aids in accessing the information available.
– We now have a

tactile model of the site

, to help us communicate with visitors with visual impairments. It helps them to judge the size of the site and the layout of the various buildings.

– Additional lighting in the galleries, which can be switched on as required.

– White markings along the sides of the paths between buildings, making it easier for visitors with visual impairments to move around the site. Pillars, windows and steps have also been marked.

– Updates to site signage bringing it into line with the reading charter for visitors with visual impairments.

– White edges on paths and reinforced lighting in the galleries also help visitors with learning difficulties to move around the site.


Work was carried out in 2009 in Le Briquet restaurant, which has now been awarded Tourism and Disability certification for the four types of disability.
In 2010, the Mining History Centre received the "Museum for all, museum for each of us" award from the Ministry of Culture, for its "outstanding work and good practice in accessibility for visitors with disabilities". Then in 2014, the Centre won a new prize from the French National Council on Disability : a "Sésame de l'Accessibilité Positive".