YOUR VISIT
> THE MUSEUM
The Mining History Centre is France's largest mining museum. It is set on the site of the old Delloye colliery at Lewarde, in the Nord département. It welcomes more than 150,000 visitors each year. Follow in their footsteps and visit the centre, where you will find yourself plunged deep in the world of mining.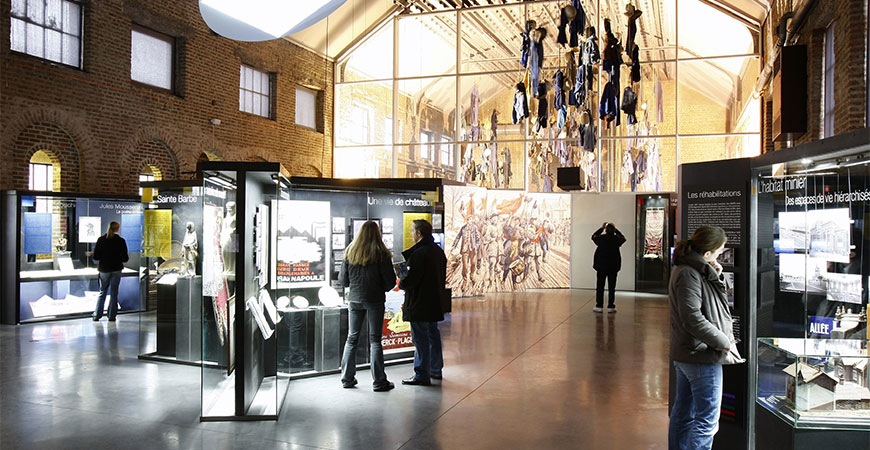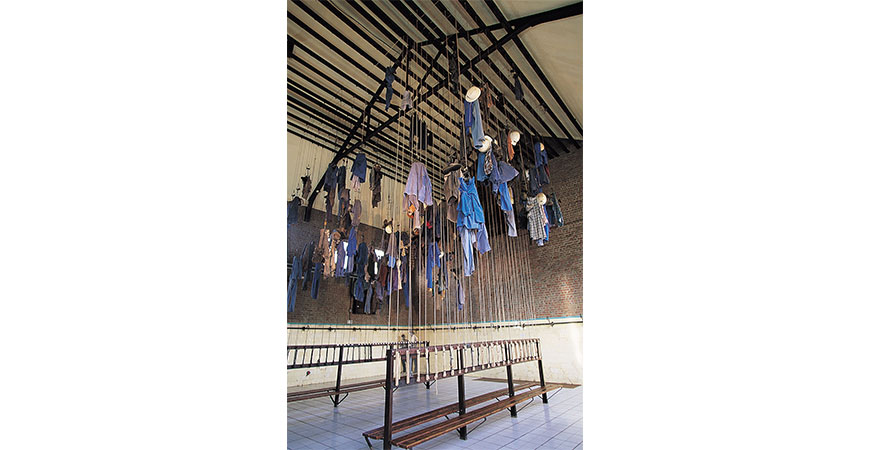 Explore authentic workplaces at Delloye colliery
Enter the emblematic world of this former colliery, with clothes hanging in the bathrooms, lamps lined up in the lamp room, a horse neighing in the stables and the enormous wheels of the extraction machines. Don't miss our reconstructions of the administrative office of the 1930s, where you will meet the accountant and the miners' representative.
Six major exhibitions will take you to the heart of this industrial and social adventure
With The origins of coal: the Carboniferous take a geological voyage through time to learn how coal is formed.
Then, thanks to Life in a mining village see the daily life of a miner and his family laid out before you: leisure, health, living conditions, etc
In The three ages of the mine, models of mining sites illustrate the ways in which the industrial and technical landscape evolved during 270 years of coal mining in the Nord-Pas de Calais.
Other historical and scientific exhibitions are also provided to complement your exploration of the world of mining : Horses and mining (temporarily closed), The history of Delloye colliery and Energy mine (temporarily closed).
Guided tour of the galleries: a voyage to the heart of the mine

Journey to the bowels of the mine accompanied by a heritage interpreter! Cross the staff footbridge to the coal breaker and sorting area where women and young miners were responsible for sorting the coal. In the galleries, you will learn how the working techniques and conditions underground evolved between 1720 and 1990.
Audio guides in English, German, Dutch, Polish, Italian and Spanish are available for the permanent exhibitions and the galleries.
The "Meet a miner" experience : an exceptional opportunity to converse with a former miner

The principle: meet a former miner and learn first-hand what life was like for him. Share the daily life of someone who experienced coal mining for real. Various themes are available :
Becoming a miner
This major industry offered a complete career path, from apprenticeship to retirement. Investigate the professional aspects of mining with someone who took part in this industrial adventure.
My first day down the mine
First experience of the miners' changing room, first descent, first apprehensions – the miners remember them all as if it were yesterday !
The dangers of the mine
A mine is a dangerous place. Miners underground faced a range of risks, including gas, water and collapsing galleries.
Back home
Home from the coalface: relive the end of a miner's shift and his return home. Meet us at the tavern, synonymous with leisure and workers' demands. You'll hear plenty of stories!
Available in French only.